Pearl Wallet Clutch PDF sewing pattern from Swoon Patterns
This easy-to-sew wallet features 8 card slots, 2 bill slots, a large zippered compartment, and a detachable bifold compartment. A removable wristlet strap comes in handy when you just need to carry the essentials. Just slip your phone into the zippered compartment and go!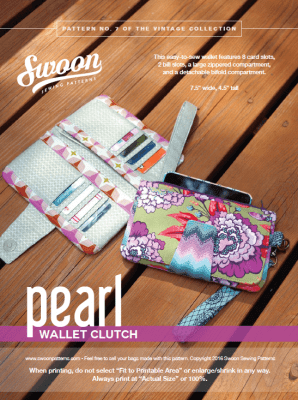 Please note: This is a downloadable PDF sewing pattern. Your PDF file will be available after checkout in the Downloads area of your account.
Images in the gallery above kindly provided by: Thank you for sharing your makes with us! Please scroll down for more inspiration.
SIZING / FINISHED MEASUREMENTS FOR PEARL WALLET CLUTCH:
Wide: 7.5" (19.1 cm)
Tall: 4.5" (11.4 cm)
MATERIALS NEEDED FOR PEARL WALLET CLUTCH:
1/4 yard (0.25 m) (or fat quarter) of 44" (110 cm) wide woven quilting weight exterior fabric
1/2 yard (0.5 m) of 44" (110 cm) wide quilting weight lining fabric

1 yard (1 m) of fusible woven interfacing (such as Pellon Shapeflex SF101)

1 yard (1 m) of lightweight interfacing (such as Pellon P44F)

1/3 yard (0.31 m) of fusible stabilizer (such as Pellon Peltex 71F)

Two (2) x magnetic snaps

One (1) x 3/4" (18 mm) D-ring

One (1) x 3/4" (18 mm) swivel clip

9" (23 cm) all-purpose zipper

Coordinating thread
FREQUENTLY ASKED QUESTIONS - PEARL WALLET CLUTCH:
What difficulty is the Pearl Wallet Clutch?
Alicia's rating: 2/4 - You should already be somewhat familiar with sewing patterns and common sewing terms.
Can I sell the Pearl Wallets that I make?
You MAY sell individual Pearl Wallet Clutches handmade by you using this pattern. Use for mass production is prohibited. If you decide to sell your handcrafted Pearl Wallet Clutches made using this pattern, then we would be grateful if you would mention Swoon Sewing Patterns in your online sales listing.
Is there a video tutorial for the Pearl Wallet Clutch?
Swoon Sewing Patterns do not come with video tutorials, however many of our lovely friends, fans, and followers have recorded live sews, sew alongs, and advice sews. We recommend searching for 'Swoon Patterns Pearl Wallet sew along' on YouTube to see the latest fan-made videos.
One of our lovely team members - Nova from That's Sew Nova - hosted a Pearl Wallet Clutch live sew along in our Facebook community back in 2021. Here's a mirror of Nova's Cutting & Interfacing video:
The full set of four sew along videos are available to watch under the Guides / Learning section of the Swoon Fans group on Facebook. If you'd like to sew along with Nova, please visit our Facebook community: Swoon Fans on Facebook
Can I turn the Pearl Wallet Clutch into a zip-around purse?
Brilliant bagineer Erin from Diedel*BugHandmade created a tutorial for this marvellous modification idea.
Purchase your downloadable PDF sewing pattern on this page, then follow along with Erin's tutorial: www.swoonpatterns.com/tutorial-zip-around-pearl
Need help with sewing your Pearl Wallet Clutch?
Have a question about purchasing, downloading, or printing your pattern?
Please note: The Pearl Wallet Clutch is a downloadable PDF sewing pattern. It is not a finished bag, nor a paper sewing pattern. Your Pearl Wallet Clutch PDF file will be available in the Downloads area of your account immediately after checkout. You will not receive an emailed copy of the Pearl Wallet Clutch sewing pattern; please download the file from your account after checkout.
Inspiration from bagineers like you!
Would you like to see your Pearl Wallet Clutch in this inspiration gallery?
Send us an email* with the photo/s you'd like us to consider, or add the hashtag #SwoonPearl to your social media post!
*When you email, please let us know what name you'd like us to include with your photo. Thank you.
Related Products
Trending Fashion In This Season
You might like!
Trending Fashion In This Season